As 3 weeks remain until start of the Stockholm Archipelago Raid the teams are getting ready. A maximum of 30 teams are allowed and this year sailors come from 14 countries all over the world to experience the adventure in the Stockholm Archipelago.

The teams:

There has never been as many nationalities represented in the raid as this year, both some of the best F18-sailors in the world, professional off-shore sailors as well as strong Club sailors. All of them looking forward to the adventure and the stunning nature. If their goal is to get on the podium or just getting to the finish line without hitting a rock, the challenge is just as big. And since there are 10th of thousands of rocks, skerries and Islands in the Stockholm Archipelago it is sometimes easier said than done.
It is also one of the most competitive fleet of F18 sailors that has ever sailed the raid since the start of the former extreme Archipelago Raid in 2001. All winners since the first raid can be found in the F18 Hall of Fame.
Some of the teams:
Iordanis "Dany" Paschalidis (GRE), F18 World Champion 2018 and Silver Medalist 2019 sailing with Marc Pirriloni (FRA), former Tornado World champion and Olympic sailor.
Patrick Demesmaeker (BEL), European F18 champion and winner of St Barth Cata Cup and Vincent Thery (BEL), Archipelago Raid veteran
Pierre Yves Moreau / Benoit Lequin (FRA), Maxi trimaran and sport cat transatlantic record holders and Archipelago Raid veterans
Fredrik Karlsson / Niklas Nordblom (SWE), winners of the Stockholm Archipelago Raid 2018
Leff Dahl (SWE) F18 Raid World Champion 2017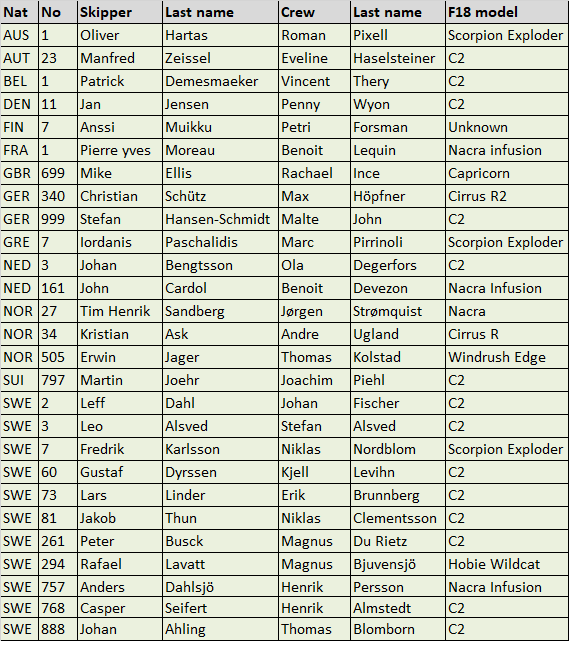 Concept
The raid is a mix of sport, nature and adventure in the perfect F18-playground; the Stockholm Archipelago. It is the largest archipelago in Europe with 36.000 rocks, skerries and islands and the most difficult one for navigation.
Each day the fleet will sail between 50 and 100 NM depending on the winds. The competitors are free to choose their route between checkpoints. Each team gets a sea chart of the area and coordinates for the checkpoints. But having a good GPS with plotter attached to the arm or chest is vital. Other gear includes the safety equipment required, like VHF, knives and flares as well as power bars and a Camelbak with water to be able to eat and drink while sailing. Dry suit is recommended since the water in the outer Archipelago can be a bit nippy.