30 teams from 13 countries will participate in Stockholm Archipelago Raid 2019. The level of the competition has never been higher. So far tricky navigation among the 36000 islands and rocks has played to the advantage of the Swedish teams. But maybe this time the Swedish six years winning streak will come to an end…
Six days after registration started 30 teams had already registered. This year the level of competition will be extremely high. In fact, it could be the most competitive fleet of F18 sailors that has ever sailed the raid since the start of the former extreme Archipelago Raid in 2001. All winners since the first raid can be found in the F18 Hall of Fame.
Among the registered teams to date:
Iordanis "Dany" Paschalidis (GRE), F18 World Champion 2018 sailing with Marc Pirriloni (FRA), former Tornado World champion and Olympic sailor.
Patrick Demesmaeker (BEL), European F18 champion and winner of St Barth Cata Cup and Vincent Thery (BEL), Archipelago Raid veteran
Pierre Yves Moreau / Benoit Lequin (FRA), Maxi trimaran and sport cat transatlantic record holders and Archipelago Raid veterans
Last year's raid winners Fredrik Karlsson / Niklas Nordblom (SWE)
Leff Dahl (SWE) F18 Raid World Champion 2017
Ole-Petter Pollen / Knut Frostad (NOR) former Olympic sailors
Michael Walther (GER), 3 times German Champion, Extreme Sailing Series and participant of Archipelago Raid in 2005, 2006, 2007 and 2009
Jan Jensen and Penny Wyon (DEN), best mixed team in St Barth Cata cup and first team ever to participate in the raid in Sweden!
Eric-Stéphane Georges (MAR) / Cantin Roger (FRA) F18 / Flying Phantom sailors
Anssi Muikku (FIN) Finnish Champion 2017 and Petri Forsman (FIN)
All Swedish top 5 teams from the last three years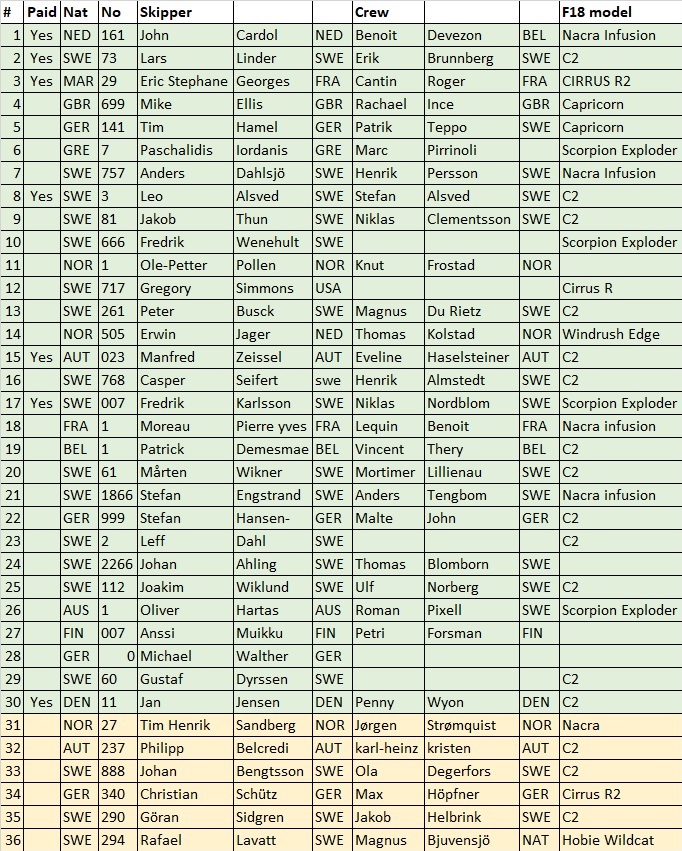 The concept
The raid is a mix of sport, nature and adventure in the perfect F18-playground; the stunning Stockholm Archipelago. It is the largest archipelago in Europe with 36.000 rocks, skerries and islands and the most difficult one for navigation. Each day the fleet will sail between 50 and 100 NM depending on the winds. It is tight, intensive racing in the daytime and good food and nice company in the evenings. The competitors are free to choose their route between checkpoints. Each team gets a sea chart of the area and coordinates for the checkpoints. It is strongly recommended to have a GPS with plotter attached to wrist or on the chest.
Limited number of charter boats available 2019
Goodall design has a limited number of boats for charter also this year. In 2018 two teams rented top nodge C2s with DS for the raid. It is a great opportunity for teams from overseas or far away who want to take part in the adventure without bringing their own boats. Check out the Goodall offer and enquire for more information here.
Follow the event on Facebook.