The westerly breeze with winds from 15-25 knots made the first day super fast. The winners of the first leg Noordzij (NED) father and son where flying the 34 Nautical miles sailed in 2.07 at an average speed of 16 knots, while navigating.
Leg 1 was mainly gennaker runs for one and a half hour and then a were fast reach with the wind from the side. Leg 2 started with a long downwind to Björkskär and then an even longer upwind to the first base camp Nässlingen.
The local raid champs Karlsson / Nordblom had a very good day and offered the tourists the locals in Sandhamn a show when the capsized in a very narrow straight just before the finish line, blocking the passenger ferry Cinderella for a while.
FIN36 Nieminen (FIN) / Backes (FRA) are on third, despite a 3p penalty. They are sailing incredibly fast and stable in the hard conditions. Team USA Stroebel / Leuck are also sailing very fast and are on 7th overall which is quite an achievement in a totally unknown archipelago with so many rocks.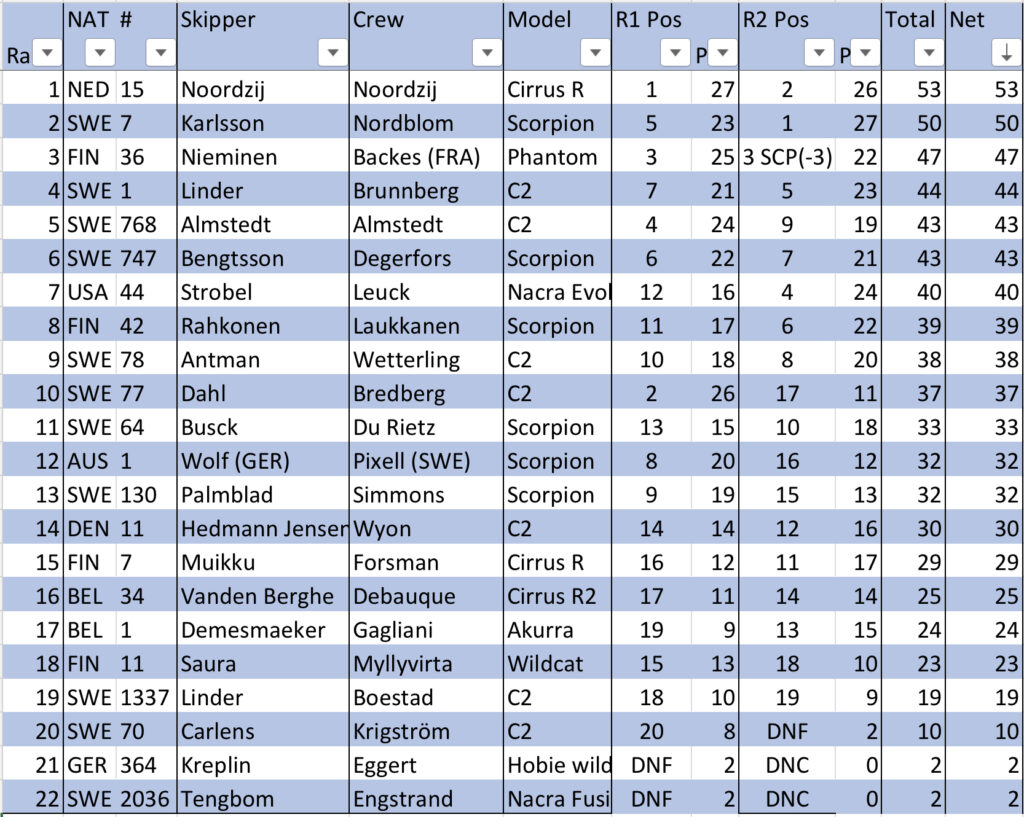 BEL1 Demesmaeker/ Gagliani had a terrible start. First they hit a rock really hard and destroyed both daggers in the first race. After some unorthodox boat care during the lunch stop they managed to get to start of leg two. But in the second race they where in the lead, but lost the jib and had to sail the boat as an a-cat loosing many places.
A couple of more boats did not finish and Tengbom / Engstrand has had to retire from the raid unfortunately.
Day two will be slightly lighter winds, more like 15-20 knots, with lots of gennaker runs to the base camp Fejan.